13 wardrobe essentials for every women
With all the noise over our social media accounts & blogs it can be difficult to truly understand the basic wardrobe essentials every woman should own. Our feeds are constantly (& instantly) flooded with the 'hottest trends' & 'must haves'.
Its time to get back to basics, understand the canvas & create the perfect capsule wardrobe.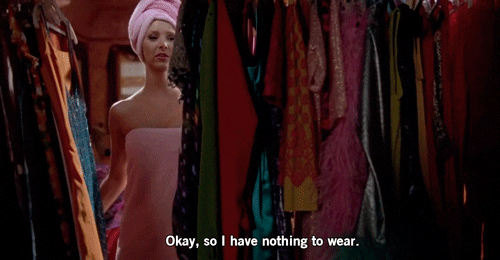 Say goodbye to being Phoebe
I'm not suggesting these are the only pieces you need in your life, a self confessed fashionista I do believe in spending a few extra dollars on these specific wardrobe essentials. At the end of the day these are your staple pieces & higher quality pieces will allow a better, long lasting and comfy fit.
You want to be able to take your essentials from season to season. By doing this you can then set yourself a modest budget to buy those seasonal goodies - for example the Metallic Pleated Skirt (Winter/Spring 2017) which can be paired with a number of essentials from the list below.
My list consists of chic, easy to wear & versatile pieces. The essentials that will take you from office to dinner with the girls, you just need to understand what works together, what doesn't & what to pair the latest seasonal trends with without breaking the bank every season (or pay cheque).
1. Blazer
A well-made blazer is a transformative object, it makes denim dressy, party dresses polished & can pull together a sophisticated office look. Taking you from day to night you can't go wrong with a Blazer.
Style tip: "A fitted blazer makes distressed jeans look much less casual. While A more masculine blazer creates a nice juxtaposition with feminine pieces, like a lace shirt and colorful skirt".
2. Breton (striped) tee
How many tops look sophisticated with a pencil skirt, sexy with a pair of leather pants, and effortlessly relaxed with denim? I can think of only one: The Breton tee.
3. Denim Jacket
A denim jacket is timeless layering piece and can be worn from day to night and from season to season. A medium wash is the most versatile option.
Style tip "Go for a denim jacket that fits snugly on your shoulders, but still has room to layer with knits in the winter and pair dresses in the summer."
4. White Button up Shirt
Striking a balance between causal and polished. Pair it with jeans, black pants or a pencil skirt depending on where you need to be. With endless options for how to wear it, consider the classic white button up shirt your wardrobe's pinch hitter.
Style tip: "Take your button-up up a notch by choosing one in a luxe material like viscose or silk."
5. White T Shirt
As seen with the blazer; it can be worn with almost everything. It adds a level of effortlessness and ease to any outfit; try it with an embellished skirt, jewelled earrings and heels for a smart casual dress code. Whether you layer a white tee under a sweater or over a tank top, tuck it into a skirt or let it hang free with a pair of denim cutoffs, one thing is for sure there is there nothing more versatile?
Style tip: "Put your white tee to work. It is a canvas for statement pieces like printed shorts, colored denim and layers perfectly under sweaters."
6. Black Skirt / pencil skirt
A pencil skirt is a slim-fitting style that ends just at or below the knee, and is arguably the most flattering skirt shape for all body types. It goes well with a t-shirt (the Breton shirt, for example) for coffee catch ups or with a button up shirt at the office.
7. Little black Dress
Really no explanation needed. Go for an LBD with a high neckline and a semi-modest length for maximum versatility from day to night. No item is more of a blank canvas to allow you to express your style with endless accessorizing options, yet completely chic on its own. The LBD has gotten nearly every female through some tough decisions!
8. Dark denim jeans
Jeans are a go-to piece of clothing, and most women have at least one pair of jeans in their wardrobe. Jeans that never go our of style? Dark wash denim. Dark denim is more flattering on all body types; it also tends to be dressier than lighter washes of denim – with a quick change of shoes, it can easily take you from playdate to dinner date. Go for a medium to high rise pair in a slim or skinny cut for a sleek look.
9. A comfortable pair of flats
With so many different variations on offer, it's easy to find one to suit your style and price range. Keep an eye out for details like ankle straps and mixed textures.
10. Classic Pumps
Everyone woman needs a pair of pumps in their life. There's always a plethora to choose from, slight differences in material, shape and heel height will produce different effects. A pair in a neutral hue like black or gray will take you from the boardroom to the bar with ease.
Style tip: "Pointed-toe styles are pure magic when it comes to making your legs look longer (and leaner)."
11. Trench Coat
Ideal for trans-seasonal weather, a trench coat is perfect to throw on over any outfit and its practical aspects makes it a surefire winner.
12. Causal sneakers
Don't just throw on your workout shoes – grab a pair of timeless shoes like converse or vans. Not only will your street style be on point but you will be comfy also!
13. Black pants
The options are endless. Classic , tapered, tailored or wide legged – get a pair that will make you feel good. Pair them with a silk blouse and pumps for work or a t-shirt & denim jacket on the weekend.